Published 04/08/2021
Online Onboarding Software - Why is Online Onboarding Important?
An Online Onboarding system is a critical component for the onboarding of new hires, new starters and any worker who is starting on day one in the workplace. It helps ensure employees are job ready, safe, compliant and aware of the procedures and policies to conduct their job, role or task properly. Online Onboarding software typically involves a workflow such as the completion of new starter forms, collection of licenses or evidence of training, onboarding the new staffer, employee, contractor or new hire through role, organization or site specific content which might include HR and safety topics, onboarding checklists and assessments to ensure they understand and acknowledge these areas. Commonly, employee onboarding is done before the staff member arrives in the workplace, done from their home or prior to starting, sometimes as their first action after being told they have the job or asked to come in to perform their job activity. (What is Onboarding)


Popular Online Onboarding Tools


Onboarding Platform for Creating the best New Hire Onboarding Experience
Tools to create onboarding courses, check lists, forms, assessments and workflows for onboarding new hires into your workplace. Ensure all new employees go through the best onboarding experience online. Setup custom onboarding workflows unique to your workplace.
COVID19 Awareness Onboarding
Help your new employees and existing staff be prepared in the workplace with infection control and COVID19 onboarding courses. See how other businesses are responding to evolving COVID19 restrictions with our onboarding courses, templates and check lists helping ensure employees return to work safely and COVID19 aware.
Employee Onboarding System
>>
What is employee online onboarding?
What is Employee Onboarding?
Onboarding is a broad term that applies to the process of engaging a new staff member to a new workplace. Right from the phone call where a new employee has been told they got the job, the onboarding process begins.

An onboarding process involves defining how your organisation sets its culture for new starters. This is done through an orientation on important policies and procedures for working in the organisation and information about the organisations goals, management team and more. The onboarding process should collect required documents and materials from the new starter such as evidence of training, compliance materials, payrol, HR details and emergency contact details. Finally, assessing the new starter to ensure they understand important materials with questionnaires and check lists.

It's common for an employee onboarding process to have a certificate of completion at the end and schedule re-onboarding in 12 months time to ensure ongoing compliance. Onboarding applies to employees, visitors and contractors. Modern ways to set this up are commonly done via an employee onboarding app
How can Online Onboarding benefit your organisation?
Assessments, Check Lists and Document Libraries
Set up online tests and assessments, interactive check lists and a document library of your policies and procedures, plans and more. Employee Onboarding Software to do it all and online!
Fully Customised To Your Requirements
One size doesn't fit all, each portal can be entirely to how you want it to work, function and specific to your organisations workflow. Setup New Product Onboarding through to New Clients and online I-9 Forms.
Employee Onboarding Check List
Create a check list that new employees go through to make sure they understand and acknowledge important workplace policies, procedures, emergency and safety details and more
Onboarding Compliance
Ensure all employees and staff are compliant before they start working at your workplace. Your onboarding process can ensure they are completely compliant before they step foot in the building. It can also ensure their ongoing compliance while they are employed with you.
Onboard new suppliers! Collect insurances, prequalification questionnaire, they manage their own users and much more
Onboarding visitors into the workplace before they arrive on site. Conduct a safety orientation and site tour online.
Onboarding new hire employees into the workplace before they start their job. Complete important HR forms online, conduct a workplace orientation, a safety orientation, online policy library and assessments.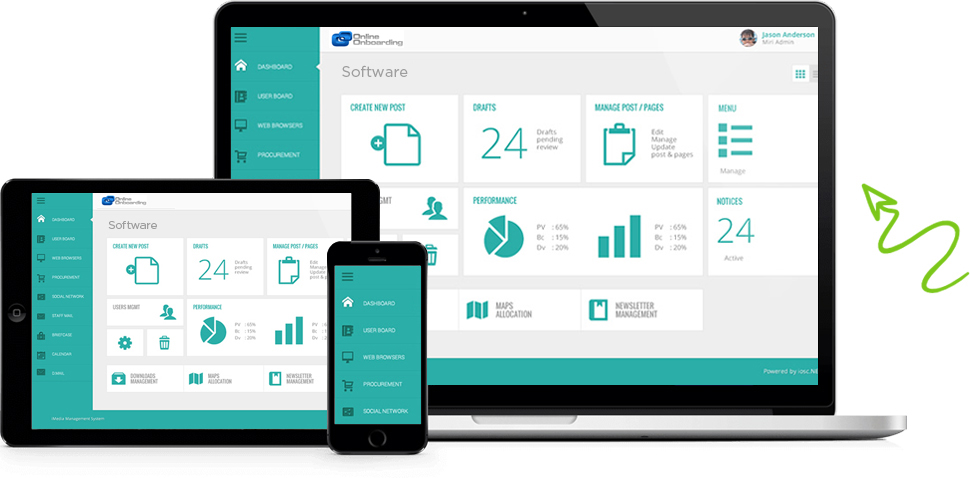 Onboarding App:
Employee Onboarding and Contractor Onboarding from the app!
Onboard New Hire Employees and Contractor Oboarding on the App store with the Online Induction App!

Users complete their onboarding process from mobile devices

The #1 Onboarding app world wide
Create account